Our Mission: 
'To enhance the reputation of our community by developing 
excellence in people through sport'
The city of Wyndham and western regional communities are growing quickly and becoming more diversified. With an estimated 1 million residents by 2040, it is important to bring the wide range of communities present together.
The Werribee Football Club has established itself as community leader, with its range of football, school and multicultural programs encouraging a welcoming environment, as well as introducing many to football who may have had no previous exposure to the game. This strong relationship between the club and the Wyndham City Council is evident in our involvement in a range of council events each year, including the Weerama Festival, Youth Festival, Multicultural Fiesta as well as many other events and programs.
Community Development
In 2009, the Werribee Football Club was the first VFL club to appoint a full time Community Development Manager, whose focus would be on the sports development and participation programs within the city of Wyndham and surrounding areas. Under the direction of the Community Development Manager, Werribee staff, players and coaches alike assist in the education of young children, aspiring athletes and community clubs through a range of seminars and sessions, which cover aspects of leadership, healthy living and other benefits which can be gained through sport.
More information about our School programs can be found here.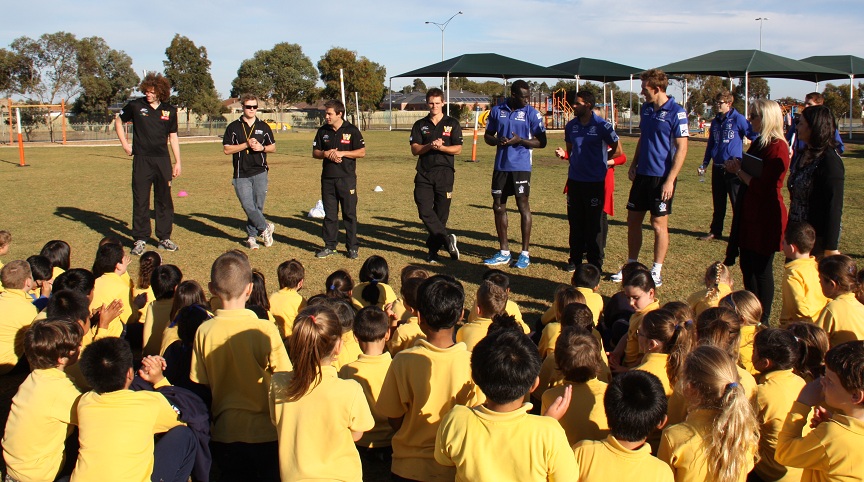 Multicultural Development
The Werribee Football Club also has an appointed Multicultural Development Officer that undertakes a number of initiatives, which include:
- Increasing the participation of Migrant young people in sport and recreation activities
- Increasing opportunities for participation in sport and volunteering within the community
- Raising the cross-cultural awareness of organisations to enable them to provide increased sporting opportunities to these individuals.
- Addressing specific barriers of participation, thus increasing the uptake of these programs and the social cohesion capacity of the broader community.
The overall goal of these projects is to increase the newly arrived and other migrant participation in sporting clubs and other recreational facilities in and around Werribee. Participation includes joining a sporting club as a player, volunteering in a sporting club or just going along as an observer.
More information about our Multicultural Programs can be found here.

Auskick
The Werribee Football Club is proud to be the only VFL club which has an employee that oversees a region of Auskick centres as Regional Manager. This role sees the club coordinate AFL/VFL visits, host coaching courses and provide hands on assistance to centres within Wyndham, providing a high community standard across the Wyndham area.
More information about the Auskick centres can be found here.
Auskick Superclinic
The Werribee Football Club hosted the annual Auskick Superclinic over the 2015 July school holidays with over 150 participants and families in attendance to be put through their paces with 20 North Melbourne Football Club players. The day was a great opportunity for Wyndham residents to get up close with some of the AFLs biggest names and for the kids to interact with the players as they rotated through 5 skill stations. The day finished with families and fans getting autographs and photos with their favourite players and giveaway from both clubs.
Building strong connections within the local community has always been a major priority of the Werribee Football Club, and this is only made possible due to the support of community partners CDC Victoria and Cervus Equipment.